Tyrannosaurus Rex Facts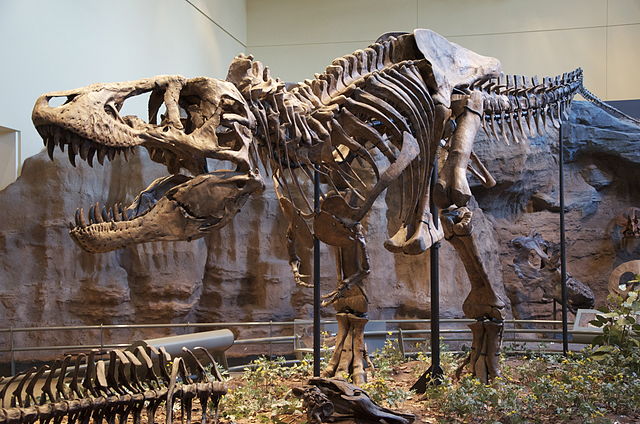 Below are some of the facts about Tyrannosaurus Rex (T. Rex):
The Tyrannosaurus Rex, commonly known as the T. Rex or colloquially T-Rex, roamed on earth before 65 million years ago during the late Cretaceous Period in those areas that is USA and Canada now.
Tyrannosaurus Rex, this name is derivation from Latin and Greek word that means "Tyrant Lizard King." It is known so because of its furious nature and the image of lordship.
The size of the T. Rex is really big. They may grow up to a size of 12 m long and 6m tall.
T. Rex is one of the fearsome dinosaurs of their time and they were mainly carnivores. They use to feast on other fellow animals that were there during their time.
Do you know how much could they eat in their single chomp? They were expert meat eaters and with their 50 to 60 banana size teeth they were able to rip of 100 kg of flesh from the victim!
Among the other carnivores of their time, the T. Rex was smarter. They had brain that was twice as big as others of their family.
Researchers believes that the T. Rex had the capacity of running at a speed of about 20km/hr. it's true that they were not the fastest as there are many examples where a dino could run at a speed of even 60km/hr., but with their own speed the Tyrannosaurus Rex were able to catch their prey easily.
T. Rex also had two tiny arms that were clawed and were less than a meter in length. It is believed by most scientists that these small arms were helpful for them while they grabbed and slashed their prey. Still, it's a mystery yet date.
Based on the different fossils found, it is believed that the weight of the female T. Rex was more than that of the males. This theory comes from the fact that the females had larger hips than those of the male T. Rex.
Currently, more than 20 complete skeleton of T. Rex are found. Among them the most perfect is Sue that was found in South Dakota in USA about 20 years ago.
The neck muscles of the King of Dinosaurs is believed to be thick and it was able to support the large skull.
The first fossil of a T. Rex was excavated by Edward Drinker Cope in 1892. He was planning to name this animal something else, however things changed.