Iguazu Falls Facts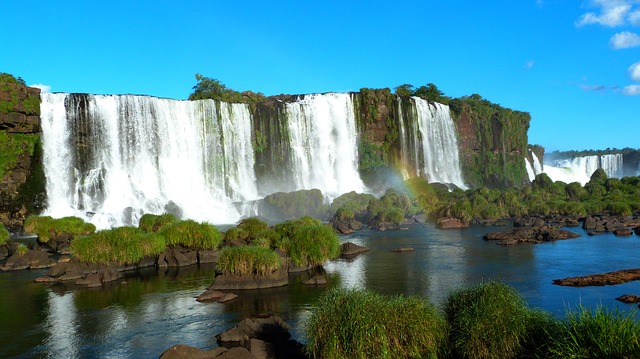 Below are some of the facts about Iguazu Falls:
Iguazu Falls means "big water" in English and it runs in the border between Argentina and Brazil. The River is divided into Upper and lower Iguazu for this falls.
The creation of this falls was after a volcanic eruption in which a large crack was formed.
Among locals there is a folklore famous about the creation of this Falls. It is said that God feel in love with a local beautiful girl named Naipi and wanted to marry her against her will. While she tried to flee with her mortal lover Taroba, god became angry and split the river. The two lovers were condemned forever.
Álvar Núñez Cabeza de Vaca, the Spanish explorer was the first European who discovered the Iguazu Falls when he was appointed as Governor of the region in 1541.
About 80% of the total area of the falls is in the Argentinian territory while rest 20% lies in Brazil. However, the river runs mostly through Brazil.
There are about 275 discreet waterfalls in Iguazu falls that stretches over 2.7 kilometers. In terms of annual flow of water it is the sixth largest falls in the world.
Among the 275 falls that are there, the most impressive one is the Devil's Throat, a U-shaped cataract. It is 82 meters high, 700 m long and 150 m wide. It is the most popular section of the falls and can be best viewed from Argentina's side.
Apart from this there are many other falls that are worth mentioning. Depending upon the season the total number of falls varies. Overall there are about 250 to 300 falls all year round.
The rainy season in this region is marked between November to March and at that time the rate of water flow could reach up to 12,750 cubic meters per second.
A specie of birds named as Great Dusky Swifts are often found nesting behind the falls. They are also seen plunging directly into the falls.
Around the Iguazu falls there is rain forest and almost 2,000 types of plant species are found there.
The mist formed by the waterfalls is indeed very high and most of the time one can watch a rainbow over the falls on a sunny day.
The first reaction of first Lady Eleanor Roosevelt after watching the falls was "poor Niagara." She was totally mesmerized by the beauty of the falls and felt pity for the American falls.