Victoria Falls Facts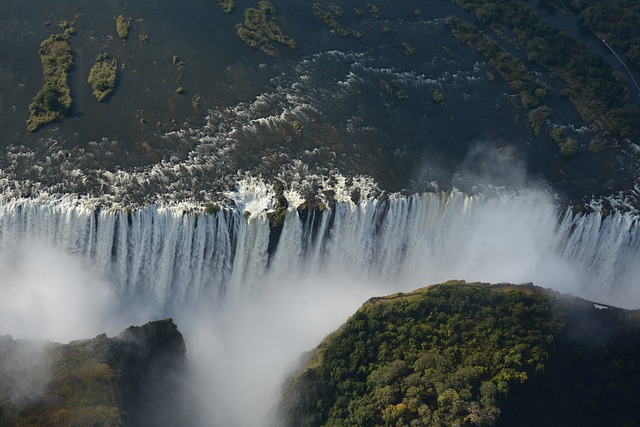 Victoria Falls is a waterfall located at the border between two African countries: Zambia and Zimbabwe. This waterfall is the most famous feature the Zambezi River - the fourth-longest river in Africa.
Victoria Falls is located between two towns: Livingstone, Zambia and Victoria Falls, Zimbabwe - with Livingstone serving as the tourism center. The waterfall has a naturally formed pool called "Devil's Pool", where some tourists swim despite the risk of falling over the edge.
Below are some of the facts about Victoria Falls:
The falls was discovered by David Livingstone, a Scottish explorer on 16th December 1855.
The name of the falls was given on the name of Queen Victoria of England who was reigning the throne at that time.
At many parts of Africa as well as the world the indigenous name of the falls is Mosi-oa-Tunya. In local language it means the smoke of thunders.
The falls lies almost halfway the River Zambezi which flows for a long stretch of about 2574 km. after this the river makes its way towards the Indian Ocean.
The falls is known as the largest waterfall of the world, but it is neither the highest with 108 meters nor it is the widest with 1708 width. Highest waterfall is Angel falls and widest is Khone Falls.
Cecil John Rhodes was the visionary person who thought of constructing the Victoria Falls Bridge. He was not alive till its completion. Bungee jumping is a famous activity from this bridge now.
Compared to the Niagara Falls Victoria Falls is about two time higher and one and a half times wider. Still both the falls have their unique beauty that mesmerizes tourists.
The Victorian Falls Rain forest lies on the Zimbabwean side of the fall. This rainforest is the only forest in the world where it rains every day. This is due to the excess amount of water vapor that rises from the fall.
The spray of the falls rises to a height of about 400m and above. The view is indeed spectacular, especially on moonlit nights.
During full moon nights 'moonbow' is a common sight. It appears as the moon rays are refracted from the moisture in the air. This phenomenon is not very common and Victorian falls is among the very few to witness this.
Devil's Pool is another unique feature of this fall. This pool is formed when the flow of River Zambezi lessen during the period of September to December. The rocks at the edge of the falls forms a pool. The dare devil enjoy swimming at this pool.
During the wet season over 5 million cubic meters of waters falls from the Victorian falls every minute forming the gorge that is more than 100 m deep.
Victoria Falls passes through the border of Zambia and Zimbabwe but the best view of the falls can be seen from the Zimbabwean side of the falls.